Top 3 Large Outdoor Dog Bed
Due to the outflow of outdoor dog beds in the market, finding that perfect and right one might be a bit tricky. It is always a hard thing to make a choice from very numerous kinds of good stuff. Hence, we have picked out the top 3 outdoor beds for which would fit in rightfully with your dog.
You can check our Best Dog kennels reviews.
Kuranda Aluminum Outdoor Dog Bed
The Kuranda Aluminum Bed is one of those strong beds you can get even if your dog is a destroyer or one of the chewing kind and trust me, he can't beat this. It comes in different sizes from the mini to the extra-large and can take dogs weighing up to 250 pounds, which makes it a great bed for the big dogs. Constructed with lightweight aluminum frames, it is sturdy and chew-proof as well as a heavy-duty fabric which can withstand your dog's digging habits. Its elevated design makes it capable of keeping your dog cool and dry and can give great support to dogs with joint or knee pains.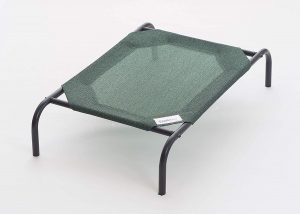 Coolaroo Elevated Pet Bed With Knitted Fabric
The Coolaroo Elevated Pet Bed is a bed you would definitely love getting for your dog because it is very durable and also won't make you break the bank just to get it. Made from high-density polyethylene, knitted mesh surface which leaves your dog feeling cool and allows air to pass through. Also, having its elevated design with a steel frame which helps in that regard. It is capable of taking dogs weighing up to about 150 pounds. It is lightweight which makes it easy to move around. The fabric makes it easy to wash and maintain as it is also mold and pest resistant.
One of the affordable beds you'll find in the market which gives you your money's worth and more. Popular for its removable bolsters, the K&H Elevated Pet Bed is a great comfort provider for your dog. Its center made mesh fabric and its edges of thick, durable and waterproof polyester help make your dog feel comfy and resistant to pest, fleas, and molds. Its removable bolster come in handy if your dog is the kind that loves resting its head on a pillow. It is well staffed and provides your dog with the sufficient support to its head's needs and is also washable.
Most Popular Outdoor Beds For Dog
After spending so much time indoors or in a kennel, you might just want your dog to join you for a time out in the yard or by the pool or maybe camping and get him to the place he could sit or lay comfortably and enjoy the atmosphere. Well, this is where you need the outdoor bed with canopy. Might sound strange though but having him lie on the bare floor isn't just right as it gets uncomfortable for him especially during the hot season. An outdoor bed would just do the trick and the very best which takes care of all his needs an outdoor bed or large outdoor dog bed should do.
Check our  Best indoor Dog beds reviews for your dog.
Amazon basics Elevated Cooling Pet Bed
For one looking for an best outdoor dog bed at a great price which covers all the necessary features accompanied by an elevated mesh design, then congratulations because you just found one. The amazon basics elevated pet bed is an excellent choice of outdoor bed for your dog and comes in various sizes from small to large. Made of mesh fabric, it is breathable, allowing for free flow of air through making your dog feel cool and dry at all times. With an elevated design raising it to about 7 inches to aid this. It is easy to clean, washable and lightweight as well which makes it easy to be moved around. It is easy to assemble and won't take your time to set up and begin to use.
Pawhut Elevated Cooling Dog Bed - outdoor dog bed with canopy
The bed is a great choice when taking your dog either camping or you have a family time out in the yard or in an open place. It is supportive of any weather, hot or cold because of its outdoor dog bed with canopy. The pawhut elevated cooling dog bed is made from durable, breathable mesh fabric which gives way for easy airflow and keeps your dog nice and dry at all times. It is sturdy and comes with four feet of a strong powder-coated steel frame which raises it off the ground at about 7.5 inches high and give it balance ensuring a level placement. It is foldable and a lightweight which makes it easy to carry and also to travel with. It also comes with a travel bag as well. Attached to it, is a canopy which covers your dog and keeps him shaded from the sun so no matter how hot it might get, he just stays in and feels cool. The large outdoor dog bed is capable of carrying pets of up to 77 pounds.
Furhaven Pet Dog Bed - waterproof outdoor dog bed
Structured with a water-resistant base, the Furhaven Pet Dog Bed is a soft bed with a waterproof covering which serves really well for your dog especially if he is old or with some orthopedic issues. The Furhaven soothes your dog and makes him feel comfortable and gets him a well-deserved comfortable and restoring sleep. With this bed, you do not need to break the bank to get comfort.
K&H Pet Products Lectro-Soft Outdoor Heated Bed
Comfort for your dog actually just got easier. With the lectro-soft outdoor heated bed by K&H, your dog can get a best dog bed that keeps him feeling cool and his body warm enough to its regular temperature. Featuring a 40-watt heat sensor that helps regulate the temperature of the bed to that of your dog. The bed comes in different sizes which makes it suitable for dogs of different sizes too. There is the presence of a waterproof PVC for protection though doesn't mean that bed should be left outside under a bad weather but it is there just as a precautionary thing.
Coleman Roll-Up Waterproof Travel Bed
When trying to get an outdoor dog bed for your dog you can check about its size and all that but one should consider its weight too. The Coleman Roll-up Bed is made of a waterproof nylon on top of it and also a non-skid covering at the bottom. It is machine washable thereby making it easy to maintain. It easily folds up making it easy for storage and transportation, and also a good one to be traveled with.
Gen7pets Cool Air Trailblazer Blue Pet Cot
The Gen7pets Trailblazer Pet Bed is one uniquely designed pet bed that gives the pet that much needed comfort and give you the satisfaction of money well spent. It comes in two sizes, medium and large, and it can take dogs weighing up to 90 pounds. Constructed with a powder-coated steel frame, it ensures that it doesn't rust, making it perfect fit for various occasions. The bed is designed like something of a 180-degree bend and attached to the frame at the center is a mesh fabric which allows the free flow of air through and also drains off the water when it gets wet. It quickly snaps up and sets up and makes it good for traveling or camping.
The Refined Canine Outdoor Dog Chaise - large outdoor dog bed
We all want the best for ourselves and I believe also that we still do want the best and most attractive as well for your dog. Looking for one with a great design, then the Refined Canine Outdoor Chaise is just an idea. Constructed out of a poly-rattan material which was used in giving it its design. It comes with a covering which serves as a canopy and covering against the sun although because of its design, at some point in the day, might not be able to block off the sun rays due to the sun's positions. The cushion is six inches in thickness, easy to wash and clean and fairly easy to put together.
You can check our  Best Pet Door reviews.
No Time To Waste?! check our best indoor outdoor dog bed
Check out my reviews on the best outdoor dog beds for small and  large outdoor dog bed